Product Catalog:
Custom Manufacture: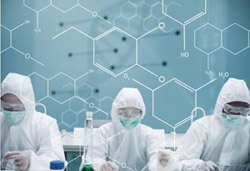 Custom services are the main Strength of the company. We welcome the opportunity to quote on clients' detail need and some new projects.
We will sign secret agreement for custom manufacturing and co-developing new projects for long-term multi-profit business.
Warmly welcome customers at home and abroad to have a good cooperation with us in all kinds of forms and we promise you the most satisfactory services.

Our Advantage:
Advance Technology, High Quality
Sincere Service, Low Cost

Our reaction:
F-C reaction, Grignard reaction, Acylation Chloride reaction, Condensation Reaction, Oxo-Synthesis,
Reductive reaction, Halogenation reaction, Diazo reaction, Oxidation reaction, Carbonyl Group alpha-H haloid reaction, Hydrolysis reaction, Chiral synthesis.

Our Equipment and techniques allow a range of reaction:
Temperature: -100 °C to 300 °C
Pressure: 1 to 15 Mpa.
Equipment and Instrument
(1) Reactor: Glass-lined 38 sets, Ceramic 26 sets ,Stainless Steel:16 sets
(2)Instrument: HPLC 3 sets, GC 2 sets, UV Spectrophotometer 1 set